J. WESLEY VAN DORN, LT, USN
From USNA Virtual Memorial Hall
Lucky Bag
From the 2007 Lucky Bag: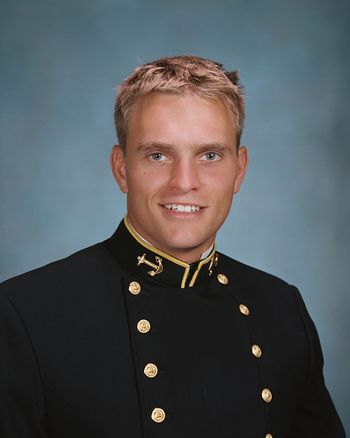 J. Wesley Van Dorn
Greensboro, North Carolina
Surfer's on acid anyone? I'm pretty sure my family is in! Thanks for everything Wes. You've taught me a lot, and you're one heck of a dude. - Michael. NAVY RUGBY - hell of a guy, a team leader. Irish girls, SOMF. Let's get Doc wasted again sometime soon. You're a good man, thanks for your friendship. -BL. Thanks for everything, the lifts, and the friendship, the advice, SOMF Ireland 2007. - KP. Nick, my basement, large women, clothing optional EAFD-GC… I enjoyed all the smoothies, Pat McGee cd's, and most of all, "entertainment" before the Princeton meet. I hope you take care of that Cypriot that's been bugging you. Best of luck at BUDS, I'll see you in Iraq. Once you take care of the Cypriot, throw on some Family Guy and whip up a smoothie to take your mind off of it. Here's to the best semester at USNA with the best roommates around. West is the most well liked guy in the Brigade, and will be a hell of a SEAL. I'll see you from the air, but see you first in California. -BAMF.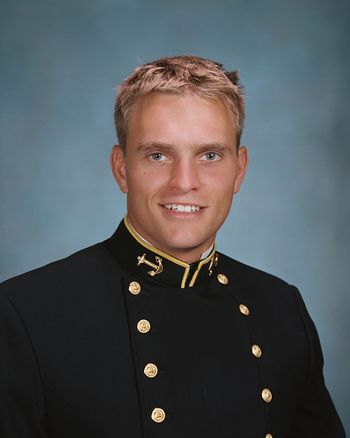 J. Wesley Van Dorn
Greensboro, North Carolina
Surfer's on acid anyone? I'm pretty sure my family is in! Thanks for everything Wes. You've taught me a lot, and you're one heck of a dude. - Michael. NAVY RUGBY - hell of a guy, a team leader. Irish girls, SOMF. Let's get Doc wasted again sometime soon. You're a good man, thanks for your friendship. -BL. Thanks for everything, the lifts, and the friendship, the advice, SOMF Ireland 2007. - KP. Nick, my basement, large women, clothing optional EAFD-GC… I enjoyed all the smoothies, Pat McGee cd's, and most of all, "entertainment" before the Princeton meet. I hope you take care of that Cypriot that's been bugging you. Best of luck at BUDS, I'll see you in Iraq. Once you take care of the Cypriot, throw on some Family Guy and whip up a smoothie to take your mind off of it. Here's to the best semester at USNA with the best roommates around. West is the most well liked guy in the Brigade, and will be a hell of a SEAL. I'll see you from the air, but see you first in California. -BAMF.
Obituary
We Planned a Life Together, but Then He Died. It Took Mother's Day to Help Me Move Forward.

By Nicole Van Dorn

My husband, J Wesley Van Dorn, was an awe-inspiring blend of humility, gentle strength, raw physical power and purposeful moral courage. I tried to be his centering, supportive confidante. Maybe, I told him, he was the one who would rectify the issues that nobody else cared about or dared to address. Maybe it was his purpose to fix the problems with the MH-53E Sea Dragon helicopter he flew for the Navy. I wish I hadn't encouraged him. He became the first in his United States Naval Academy class to be killed in the line of duty, when the helicopter he was piloting went down on a training mission in January 2014.

Wes returned from deployment in Korea right in time for Christmas — the month before he died. After a carefree week in the mountains, he gripped my hand tightly on our drive home. He chatted with practiced stoicism about the risks of his job: The helicopters are always broken. They barely fly. The situation isn't getting any better, Nicole, maybe worse. We can't order new parts, and maintenance isn't taken seriously. People sign off on tasks that aren't done. What do you think about me cross-commissioning to the Coast Guard?

We agreed that when Wes went back to work, he would document any malpractice, like falsifying maintenance records, or any questionable circumstances around the helicopters he was flying. He would continue to petition leadership to actually lead — to fight for the funding needed to make repairs and refuse to accept shoddy work done simply to bolster the ratio of operable to inoperable aircraft. Eventually, we knew, his record and reputation would lead him to command, where he could confront the community's daunting, endemic challenges. In the meantime, Wes would be meticulous during his preflight checks.

That's what he was doing on the morning of Jan. 8, 2014. Yet two hours into an ordinary training mission, his helicopter failed him. A bundle of zip-tied electrical wires chafed against a fuel transfer line until it made a hole through which fuel started to leak. The fuel then came in contact with exposed wires and started a fire. Without warning, a wall of flames exploded through the cabin, filling it with thick black smoke that blinded Wes and his co-pilot. Almost 37,000 pounds of burning steel slammed tail-first into the ocean, dragging the five men inside down with it. Only two of them ultimately survived.

Years of the Navy ignoring warning signs led to this tragedy, leaving a legacy of pain for each survivor — spouse, child or fellow aircrewman. Unlike one of the other widows, my husband was rescued right away, so at least I didn't have to hold on to hope for six days that because a body had not been recovered he could still be alive. Unlike that woman, I didn't have to watch as my four children were told that their father was eventually found in the wreckage, but the remains were "not suitable for viewing." At least I didn't have to live my life wondering who our children would have been and what my husband would have been like as a father, as the third widow does. And unlike the two men who survived the crash, I at least don't have to live with chronic physical and mental wounds, racked by post-traumatic stress disorder. I got to hold my husband as he died, to kiss him goodbye. At least there's that.

Wes reached the hospital still conscious, but hypothermia is persistent and cruel. By the time I was finally able to argue my way through hospital bureaucracy to get to him, his wide eyes were the same piercing blue-green hue, yet they were empty, lifeless. There he was — my husband, my best friend — succumbing to an inevitable, fatal reality. With my head on his chest, I pleaded: "Come back to me, J Wesley. Don't leave, not now." A nurse gently placed her hands on my shoulders and moved me to the back of the room. The sense of impending, inevitable anguish was crippling. I felt as if I was standing in the background of my own life — an idle observer of somebody else's nightmare. I watched as my worst fear, magnified and amplified, cascaded past as if on an old movie reel. The reel came to an abrupt end: "Time of death, 4:35 p.m." I became a widow, and Wes became a "was." My world stopped. Then the questions started.

I've lost track of how many times people asked: "Do you need help? How can I help?" At some point, necessity taught me how to block them out. This question aggravated my already overwhelmed state of being and increased my sense of isolated otherness. While I appreciated the underlying desire to lessen the burden of grief, I thought the answer to the first question was glaringly obvious. Of course I was not O.K.; would you be?

Being asked how to help was equally jarring. In those first few months after Wes died, it rang so small-minded, so fortunately naïve. Expecting me to identify and communicate my needs was so painfully backward. Help or don't help, I didn't care. But did no one understand that I had to repeatedly remind myself to breathe? To remember that the brake pedal is on the left? That the boys need to eat, again? Please, please do not ask me to see through this haze of nothingness that shades my entire existence. Please do not require me to spend my precious energy on something so small. It is all being consumed by a monstrous void already.

Never was the void so visceral than when our children were involved. My 4-year-old crawled into my bed early one morning, choking back tears. His words were searing: "Where is Daddy? Was he here last night?" I was not prepared for this question. I wanted so desperately to tell my son: "Yes, miracles do happen. Daddy is alive. He is here." My heart burned to take away his immediate pain, and mine too. My own grief, anger and confusion were clouding my mind, coaxing me to whitewash the harsh reality. But a flood of primal, maternal instinct took over. My duty was clear: protect my child from further trauma. I could not give him the false hope that we both so desperately craved. "No, sweet boy, Daddy was not here," I told him firmly. "He would never choose to leave you, but Daddy is gone. He's never coming home again." His shattering cry is forever etched into me.

Another question that roiled my soul: "Have you written thank you notes to everyone who brought you meals yet?" I was and still am astonished by the audacity of this question. The gift of a meal is a gift that seeks to lessen a burden, not to swap one burden with another.

As the months passed, the concept of a reality without Wes seemed to normalize for those around me. There was an unspoken expectation in the air that life goes on, and therefore so must I. Eventually, this expectation was voiced: "What are you going to do next? Are you going to move? You should make a plan." This question brought a tidal wave of conflicting emotions. As a freshly minted widow, I did not have the physiological agency to consider line items this large. Being asked this question made me feel so alone. Home in my empty house, I was left to wrestle with this question that I hate. My mind raced. How could I even begin to imagine a future without him by my side? The heightened sense of isolation brought me to my knees. I had so much to say, but no partner in whom I could confide. I felt out of place in my own life. My identity felt like a dichotomy: Former me was found in and with Wes, new me was a stranger.

It was tragically fitting that the innocent, demanding question of a 2-year-old would bridge this chasm for me. On Mother's Day in 2013, I slept in until 10:30 a.m. I woke up to a pizza omelet, bacon and coffee on my nightstand. I went downstairs to find a clean kitchen, a dozen roses and a quiet house. On Mother's Day in 2014, I woke up at 3 a.m. to the sobbing of a distraught child, and at 7 a.m. to a screaming, inconsolable toddler. I was able to half-brush my teeth before my youngest spilled his bottle across the whole house, then slipped on the wet floor, fell, banged his head and wailed some more. I cooked breakfast while the boys destroyed nearly every room. My older son complained that his eggs were too hot and that the cheese tasted "stinky." His younger brother refused the eggs altogether, asking for the only thing we were out of: bananas.

As the three of us sat together, facing the empty chair at the head of the table, surrounded by pictures of helicopters and three folded flags, I began to wonder. Now that Wes was not sitting physically here with us, would the boys ever truly know how wonderful their father made our last Mother's Day together (and, really, every day)? In that moment, I was silenced by my own thought — of course they would. I would tell them, and better yet, show them.

The room looked less hazy and gray, the light through the windows seemed less menacing. For the first time, I was able to see some purpose through the pain. Grief is powerfully transformative, I realized. It is not a sentence, it is a promise. My next step became clear: It was time to learn to live around the huge gaping hole of Wes's absence — not past it, not without it, just around it. All at once, I no longer felt like a dichotomy. The truth was so confusing yet so simple, I understood. I am two different versions of myself, walking together into the future.

Nicole Van Dorn is a remarried mother of four and a Gold Star widow. She is an honors graduate of McGill University and lives in Virginia Beach. Her quest for answers after the death of her husband is chronicled in the film "Who Killed Lt. Van Dorn?," which will screen May 12 at Cinema Village in New York City.
Loss
From NBC News:
Wes Van Dorn slipped out of bed around 4 a.m., pulled a green flight suit on over his boxers, then brushed his teeth and kissed his wife before driving to work. Both of his young boys had woken up crying the night before, and although he needed to be up hours before sunrise, he had been the one to sing and cuddle them back to sleep.

Later, once she had strength to process the events of this day, Nicole Van Dorn would count that as a blessing.

Wes hated to leave her and the kids each day for a job that frustrated him. After graduating from the U.S. Naval Academy in 2007, the former rugby star had taken a run at becoming a SEAL. But after surviving the infamous Hell Week at basic SEAL training, he was cut by the instructors, who found that he was unwilling to sacrifice an individual for the survival of the group. The Navy instead sent him to Milton, Florida, for flight training.

Wes never wanted to be a pilot; he had always been scared of heights. So when it was time to choose a career path, he picked a little-known helicopter program that had a reputation for a slower work environment and less frequent deployments. A friend had told him flying MH-53E Sea Dragons was the most family-friendly job in naval aviation — and Wes was a family man.

Not long after joining his Norfolk, Virginia-based squadron in 2010, he began to question the decision. Something wasn't right. Months later, after he took over as the division officer in charge of maintenance, he began to realize the depth of the problems. The aging helicopters weren't getting the care they needed. Maintenance protocols were being skipped. Replacement parts were scarce, and when they were available, it was usually because they had been plucked from another Sea Dragon. At any given time, only a few of the squadron's helicopters were ready to fly.

Whenever Wes tried to correct the problems, he felt as if he was bucking a chain of command that had grown accustomed to business as usual. He learned that a 20-something-year-old lieutenant has only so much power. Finally, a little more than a year ago, Wes told Nicole he was ready to get out. Maybe he could fly for the Coast Guard, he suggested.

"Wes, obviously there's a problem," Nicole remembers saying. "Maybe you've been put in this position because you're the one who needs to fix it."

He knew she was right. Wes agreed to stick it out — and Nicole agreed to support him — even if it meant she was left alone 15 hours a day with Jaxton and Maddox so their daddy could double-check maintenance records and punish sailors who took short cuts. He'd text home in the evening to explain why he was missing dinner again.

"I want to get flying, but I also need to fix maintenance so I don't die while flying," he wrote once, repeating a variation of a line he used often.

"Let's focus on the not dying," Nicole wrote back. "You're the best diaper changer I know."

The playful exchange was typical of their relationship. Before they fell in love, Wes and Nicole had been best friends.

Late on the morning of Jan. 8, 2014, a few hours after he had kissed her goodbye, Nicole sent Wes another text: "How's it going today?"

She didn't wait around for an answer. Nicole got the kids dressed and dropped one off at preschool, the other with a baby sitter, then headed out to run some errands. She had decided she was going to make Wes pulled pork for dinner — his favorite.

By the time she got to the store, he was already in the water.

The Sea Dragon is a Cold War-era workhorse. It's the Navy's biggest helicopter and the only one in the fleet with enough horsepower to drag equipment through the sea to find and disable underwater mines. Iran's threats to place bombs in a heavily traveled Middle East shipping route two years ago was a reminder of just how critical that mission is.

The brass had planned to retire the Sea Dragon more than a decade ago, but after investing millions of dollars in a failed attempt to outfit smaller helicopters with mine-hunting gear, the Navy was forced to keep the old birds flying. The reversal put the service in a bind: Believing that the Sea Dragons were heading to a scrap yard, defense suppliers stopped making many of the parts needed to keep them going.

The Navy's top officer, Adm. Jonathan Greenert, acknowledged recently that the helicopters are too old and inefficient. He wants the program shut down "sooner than later," he told reporters. But his hopes are tied to a fleet of unproven mine-hunting robots that will one day be launched from the Navy's littoral combat ship — a defense program that's years behind schedule and millions over budget.

And so the Navy's oldest and most unreliable helicopter flies on, with no plans to take it out of service until at least 2025. Although Sea Dragons have crashed at a rate three times greater than other Navy helicopters — a crash rate that has nearly doubled in recent years — Navy officials have said repeatedly that they're confident in the helicopter's safety.

That sentiment is not shared by the authors of a recent internal review. The confidential report, obtained by The Virginian-Pilot, warned that without a comprehensive study of the helicopter's aging components, there's no way to ensure the Sea Dragon will be safe to fly for another decade, placing pilots and crew members at risk.

Wes Van Dorn knew about the problems that would later be cited in the report. With Nicole's help, he had been quietly building his case — taking detailed notes and writing private essays about problems he saw — preparing for the day when he might have enough authority to make real changes. Until then, there wasn't much he could do other than be vigilant.

He got to the hangar early that morning to make sure the helicopter he was assigned to fly was ready. A day earlier, in bitter winter cold, the helicopters had all frozen on the flight line. Lesson learned. This time, with the wind chill again dipping into single digits, the squadron had kept its helicopters inside overnight.

Wes and a co-pilot, Lt. Sean Snyder, ran through the standard preflight safety checks with the three enlisted crew members. One of them raised a concern: The cabin heater kept flaming out, and it was far too cold to fly without it. No big deal. Dealing with mechanical glitches was part of the job at this squadron.

"We'll make it work," Wes said, before firing up the engines and getting the OK from the tower to begin the training flight.

A moment later, they lifted into the sky and flew out over the frigid Atlantic.

The Sea Dragon known by call sign Vulcan 543 had been towing a sonar device through the ocean for about an hour when a fire warning light flickered in the cockpit. Wes Van Dorn asked one of the crew members in back to inspect the engines for signs of trouble.

Even by helicopter standards, the cabin of a Sea Dragon is a noisy, grimy place — a web of fluid lines and wires, the roar of three massive engines, metal surfaces coated in a greasy film from the constant drip of leaking hydraulic lines.

A quick in-flight fire warning wasn't unusual; morning sunlight from the horizon can sometimes trip the sensors.

One of the crew members poked his head out a hatch and into whipping cold air to see if any of the engines were smoking. The sky was bright blue, almost cloudless.

Everything looked normal.

"We're all clear, sir," the sailor told Wes, then returned to his position.

With the sonar system deployed, the crew's job was fairly simple: Keep an eye on the tow cable, make sure the helicopter wasn't pulling against too much tension, and try not to freeze. One sailor crouched down for warmth below one of the engines, oblivious to a problem a few feet away.

A worn-out fuel line had been rubbing silently against a bundle of old electrical wires near the front of the cabin — a flaw that had gone undetected for years. The same mechanical defect existed inside every Sea Dragon in the fleet, though nobody knew it. Over nearly three decades, the Navy had never required anyone to regularly inspect Sea Dragon wires or fuel lines for damage.

The sailor beneath the heater felt the explosion before he saw it. He turned and saw a flame shoot through the helicopter. Another crew member, thinking the fire was coming from the malfunctioning heater, started shouting to the pilots: "Secure the heater! Secure the heater!"

The wires had rubbed a hole in the aluminum fuel line, sparking an electrical arc that connected with a pressurized stream of jet fuel. Within seconds, the fire grew into a wall of flames that blasted forward into the cockpit. Black smoke filled the helicopter.

One of the crew members grabbed a fire extinguisher, but it was no use. Another dropped to the deck and called for everyone to pull out their oxygen bottles. Wes and his co-pilot didn't have time to call for help. Blinded by smoke and scorched by the flames, they lost control and crashed, tail-first, into the water, less than 20 seconds after the fire erupted.

Saltwater flooded the cabin as the helicopter sank. Sean Snyder didn't have a chance — he was pinned in the cockpit. Another crew member, Petty Officer 3rd Class Brian Collins, was likely killed on impact. His body floated to the surface.

The others — Wes, Petty Officer 2nd Class Dylan Boone and a sailor who has not been publicly identified — managed to escape the submerged wreckage of Vulcan 543.

Another Sea Dragon circled overhead and radioed for help. When Wes reached the surface, he was missing a foot and three fingers on his left hand.

His wedding band disappeared into the sea.

About 30 miles away, Nicole Van Dorn was at T.J. Maxx buying a new dress shirt for her husband when her cellphone vibrated. It was a text from a friend in Hawaii.

"Is Wes OK?"

And then a few seconds later: "We saw a 53 went down."

She stood trembling in the checkout aisle, praying it was a mistake.

At least five times over the past three decades, the Pentagon has grounded its entire fleet of Sea Dragons after discovering design flaws.

The helicopter's troubles made national news about 15 years ago, but after the Navy announced fleet-wide fixes and a plan to retire the aircraft by the end of the decade, the Sea Dragon faded from the spotlight.

It resurfaced in 2012 following a string of crashes, including an accident in Oman that killed two sailors. Afterward, the Navy acknowledged it had long neglected the program, in both funding and attention. An investigation revealed systemic problems, confirming many of the issues Wes Van Dorn had been telling his wife about for more than two years.

"It was a failure of many things," Capt. Todd Flannery, then commander of Helicopter Sea Combat Wing Atlantic, said during an interview in October 2013. "It was a failure of leadership. It was a failure of maintenance. It was a failure of operations. There were just many things that came to a head that led to this."

The Navy committed millions of dollars to turn things around. It installed more advanced sensors to warn when parts were failing. It added dozens of maintenance personnel. It beefed up pilot training. And it tapped Flannery, a career SH-60F Seahawk pilot, to implement leadership and cultural changes.

The investments were paying off, Flannery said more than a year ago: "We've still got a long way to go, but the program is back on the right track."

Three months later, Vulcan 543 burst into flames and slammed into the ocean.

Wes was conscious when a rescue swimmer plucked him from the water and got him into a helicopter about 30 minutes after the crash.

Once they landed at Sentara Norfolk General Hospital, Wes tried to get up from the gurney. A video posted to YouTube shows him batting away one of the emergency workers.

"Where's my wife?" he said as they wheeled him into the hospital.

Two hours passed. Nicole Van Dorn hadn't heard anything from the Navy, and her husband wasn't responding to her calls and texts. She tried to stay calm. Several friends and neighbors had also seen news reports of the crash and came by to make sure she was OK. She stood in the kitchen watching a friend hack away at the hunk of pork that was supposed to be Wes' dinner. Then her phone rang.

It was a sailor who wasn't authorized to speak to her.

"Wes … helicopter crash … multiple blunt-force trauma … fire … get to Norfolk Sentara."

Click.

Nicole fell to the floor. A friend helped her up, and another drove her to the hospital as she sat in the back seat, shaking.

She and Wes had talked about how a day like this might play out. Nicole was more than his wife; she had become his sounding board and technical assistant. She helped him maintain spreadsheets to track sailor performance and discrepancies in maintenance logs. Wes had come to believe sailors were falsifying records to keep helicopters flying.

"Someday," Nicole would often tell him during their late-night chats, "you're going to be the commanding officer, and you'll be in a position to fix this."

She also was the keeper of his personal email account, where Wes forwarded work messages. Later, after the crash, one from November 2013 would jump out at her: a thread with the subject line "Japanese MH-53E."

Japan was the only other country that bought Sea Dragons, but it had retired its fleet the previous year, replacing them with a smaller, more efficient Italian-built helicopter.

Wes was copied on the email, authored by a Marine officer at the Maryland-based command that's responsible for overseeing the Navy's aircraft programs. In it, the officer outlined the U.S. Navy's efforts to acquire the scrapped helicopters:

"We have been negotiating with the Government of Japan for years to make this happen, and we are finally on the cusp. We are going to negotiate for 'nominal price,' meaning hopefully as close to free as we can get."

If everything worked out, the officer wrote in a follow-up message, the Navy would most likely just harvest the helicopters for parts. But they could also serve another purpose if needed:

"Unfortunately," the officer wrote, "last year we had two mishaps in the U.S. Navy that resulted in the destruction of two of our MH-53Es. We used to have 31, now we have 29. Since there may be more mishaps in the future, we would like to reserve the possibility of making a flyable aircraft someday with these airframes."

The email had turned out to be prophetic.

Nicole composed herself in the parking lot outside Norfolk General, then walked into the hospital and started demanding answers.

Back when she was pregnant with their first son, Nicole Van Dorn made a promise to her husband. At his request, she agreed to refuse pain killers during labor. He had told her he would read books on childbirth, that he would be with her, holding her hand and breathing through every contraction, and that he wanted her to rely on him when she felt like giving up.

"This will bring us closer together," Wes had said.

After 12 hours of labor, Nicole grabbed him by the face and pulled him close: "Wes, I'm literally going to die. Give me the pain meds."

Wes smiled as he looked into her eyes: "Oh, sweet girl. You made a commitment."

Typical Wes. He had a way of willing others to share his confidence, Nicole says. Now she was back at a hospital, praying once again for the strength of her husband.

She was greeted by a few dozen sailors from his command. They confirmed that Wes had arrived there a couple of hours earlier. Hospital staff led her to a private waiting room with a spread of Jimmy John's sandwiches and a bowl full of sodas and ice.

For nearly an hour, she sat at a conference table, resisting the urge to scream. Why wouldn't anyone tell her what was going on? Finally, a hospital worker entered. She told Nicole that Wes was being prepped for surgery and that she couldn't see him until he came out.

"With all due respect," Nicole told the woman, "if my husband is dying, I need to see him right now."

The woman left, then came back: "I can give you five seconds," she said.

Just stay calm, Nicole kept thinking as she was led a short distance to the operating room. Wes was lying on his back. His eyes were open, but he wasn't conscious. He had a tube in his mouth. The left side of his face was charred.

"Oh, J Wesley," Nicole said cheerfully, calling him by his full name. "You're so beautiful."

The woman who had led her to the room pulled up a chair and told her to stay. A doctor listed the injuries: Wes had third-degree burns. He was hypothermic. He had lost three fingers. He was missing a foot.

"OK, that's fine," Nicole said. "He'll win the Paralympics someday."

The nurses suggested she hold his hand. Kiss him, they said. Stroke his face. His body temperature wasn't warm enough for surgery, and they hoped her presence might help him pull through.

Nicole told him how much she loved him, that she and the boys needed him. She pleaded with the doctors to do everything they could: "I just want you to know what a good and kind person he is. He makes the world a better place."

After about an hour, a neurologist came in and waved a light over her husband's vacant eyes. The doctor shook his head, then reached to shut Wes's eyelids. He stopped when he noticed Nicole watching.

Oh God, please no, she thought, and tightened her grip on her husband's hand. A moment later, his heart stopped.

A hospital worker backed Nicole away from the bed as another pulled out shock paddles and tried to jolt Wes back to life. Nicole and two friends stood to the side, sobbing and praying.

Wes, a month and two days shy of his 30th birthday, was declared dead at 4:35 p.m.

Minutes later, a Navy casualty assistance officer entered the room to give Nicole the official notification that her husband had been in an accident. Nicole was too numb to be angry.

Weeks later — after the Navy had replaced dozens of dangerous wires and fuel lines and had once again cleared all of its Sea Dragons to fly — a thought would enter her mind: What her husband was unable to accomplish in life, perhaps she could accomplish through his death.

In this moment, though, she wasn't thinking about helicopters.

After everyone had left the operating room, Nicole climbed into the hospital bed with her husband.

She lay on his chest for the next seven hours, until the last of the warmth had faded from his flesh, and the body in her arms no longer seemed like the man she'd married.
Wesley is buried in New York; he has a second Find A Grave entry here.
Movie
The documentary film "Who Killed Lt. Van Dorn?" was released in 2018 and is available for streaming on Amazon.
Photographs
The "category" links below lead to lists of related Honorees; use them to explore further the service and sacrifice of alumni in Memorial Hall.